MAP President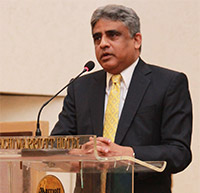 MR. TALIB SYED KARIM
President
Rector & Executive Director
Institute of Business Management
President's Message
Since its inception in 1967, the Marketing Association of Pakistancontinues its efforts to become a significant force that brings value to the industry. Its Lahore Chapter was established in 1987 to carry out activities for marketing professionals of Lahore and around.
Marketing Association of Pakistan's dedication and persistence since 1967 has propelled the marketing brilliance and today it enjoys a membership base that represents leading senior, middle and junior level institutions as well as individual members from all over Pakistan.
Marketing Association of Pakistan conducts various activities to bring marketers under one-roof to present, discuss and share the latest trends, challenges, success stories and opinions to uplift the skill set of marketers all over Pakistan.
One of the reasons people join Marketing Association of Pakistan is its awareness raising initiatives and other events as follows:
Pakistan: Islands of Excellence
Seminars
Marketing Conference (MARCON)
Articles on latest trends in Quarterly Publication: Marketing Review
Annual Dinner and Awards of Excellence
The Marketing Association of Pakistan will soon expand its scope to marketing training of professionals nationwide and also initiate international webinars that will be a great step towards providing marketing brilliance.
On behalf of Marketing Association of Pakistan I thank the team, institutional/Individual members, sponsors and partners who made it possible to bring the association to this prestigious level.
I also look forward to welcome new members to join us in our efforts.
With regards,

TALIB SYED KARIM
President
Marketing Association of Pakistan