Council Members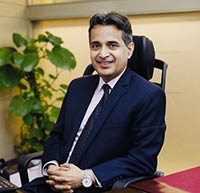 MR. ALI HABIB
Honorary Secretary
Executive Vice President
United Bank Ltd.
Ali has 27 years of experience in Marketing, Corporate Affairs, and Wealth Management, both in Pakistan and overseas. Ali brings with him an ability to initiate success in many contexts, driven by his experience of spearheading, and enthusiasm for accepting, organizational change.
Ali has been with UBL for the last two years, where he has led an increasingly aggressive and coordinated approach on the Bank's Brand Development and Communication efforts.
His prior assignments include; Marketing Manager in Procter & Gamble (P&G), Marketing Director in Reckitt Benckiser, and Head of Corporate Affairs both at Standard Chartered and NIB Bank.
Ali is an alumnus of Aitchison College, Lahore, and holds an MBA from the Institute of Business Administration (IBA), Karachi.